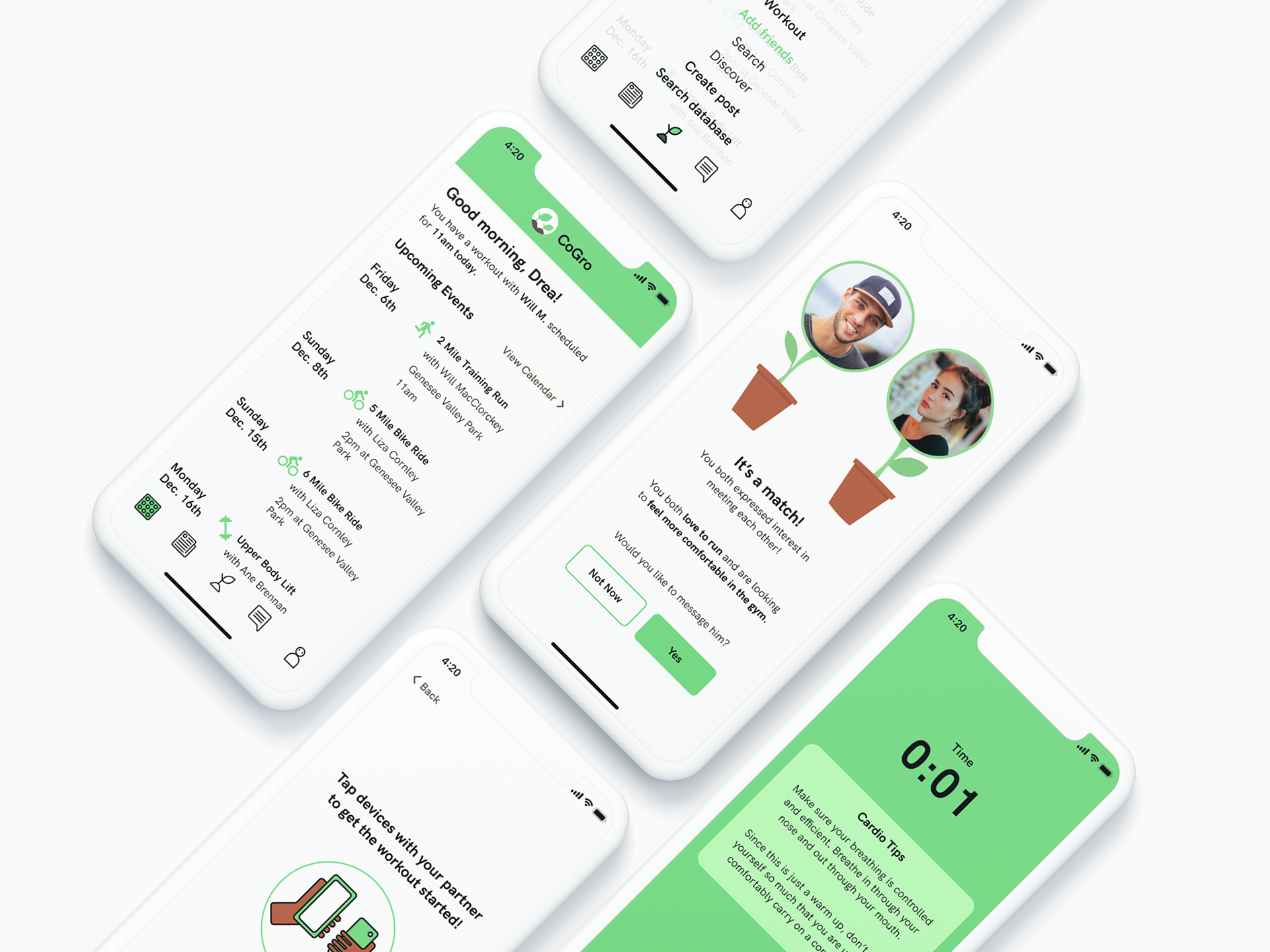 Skills
User Research & Identification
Concept & Ideation
Visual Design
Problem
People are

more intimidated and less motivated to workout

when they are doing it

alone.
Solution
Create a fitness app that encourages people to start working out through the
experience of community and collaborative exercise.
Planting new seeds.
CoGro allows users to discover others using the app in their area that are suggested based on similar interests who can be added to their friends list to schedule workouts with.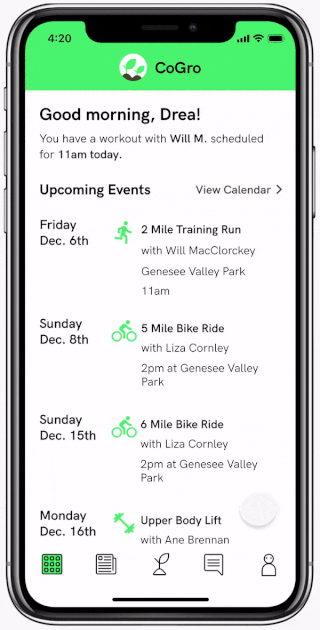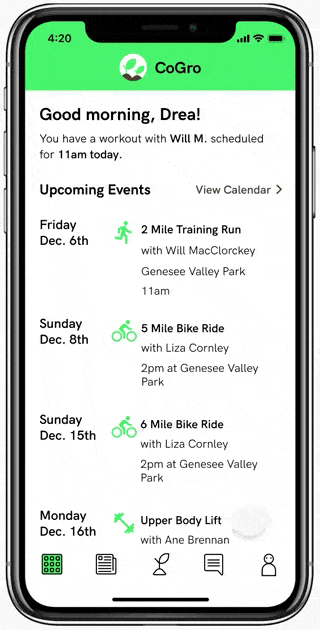 Budding with buddies.
CoGro users can schedule workouts with their friends that prioritize their shared preferences and encourage them to interact and work together during sessions.
Growing together.

During workouts, users are given tips and tutorials for the exercises they are doing that change over time as they become more experienced and knowledgeable.
Qualitative Interviews
After interviewing 5 people of different exercise experiences and habits, I found a recurring theme of
people
getting more out of exercising and having more fun when they had friends to do it with.
Here are some of the key quotes that inspired me to focus on this issue:
"I would 100% be more into going to the gym
if I had someone to go with.
"
"My main goal is just to get comfortable with the gym in the first place. The way I'd prefer to do that is to
go with someone I know.
"
"Sometimes I go to the gym with a friend who knows more than me and knows what to do,
that's what I feel I get the most value out of.
"
"I've got a really great group of women to work out with, there's great camaraderie.
Everyone encourages each other.
"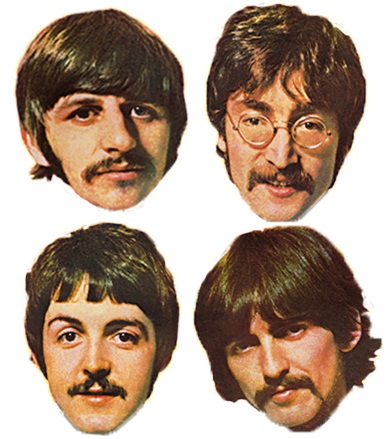 "I get by with a little help from my friends."
User Stories & Flows
Drea is a college student who does not make a habit of exercising but
hopes to develop a more active lifestyle
. She is pretty inexperienced in the gym, and she
does not have any friends who share her goal
. She has tried to start working out regularly, but she
has trouble keeping it up by herself
.
"As someone who does not have very active friends, I want to meet someone who is equally interested in exercising so that I have someone to work out with."

Drea can add friends by using the Discover feature, which suggests other users with similar preferences to Drea whom she can match with and determine if they would be a good workout buddy.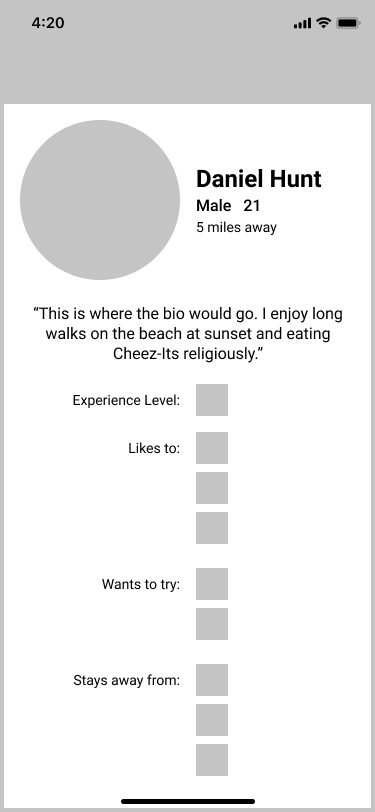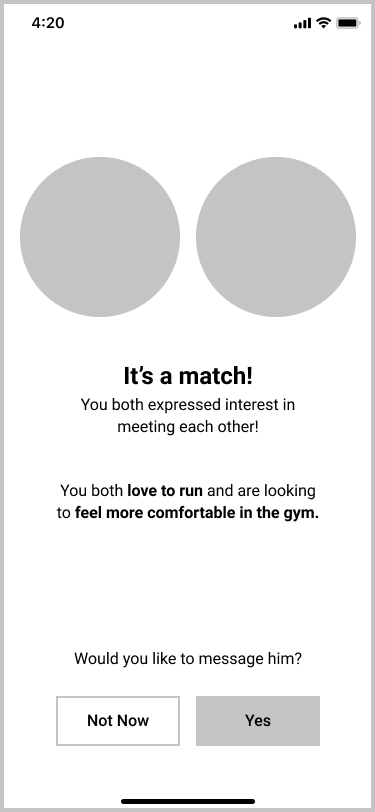 Flow 2 - Drea Wants to Learn
"As someone who is n
ot experienced with working out, I want exercise suggestions or tutorials so that I actually have something to do when I
want to get active."

Drea is able to schedule workouts with her buddies in advance, which she will be notified of when the time comes. Drea and her buddy pair devices to start the workout, and they will be given tips, tutorials, and partner challenges as they progress through the workout.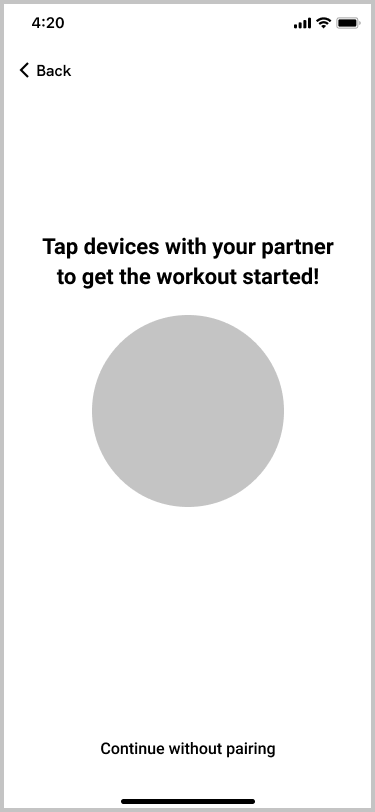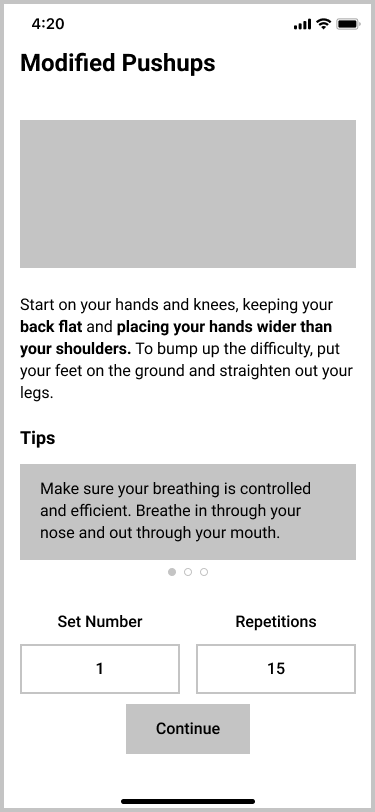 I created this moodboard to symbolize the concept of a
community garden,
a place where people come to learn and grow together. I wanted the app to be the host for a community that is
open and accessible to everyone
where people form new habits and harvest the rewards of the seeds they plant over time.
Key Words:
· Organic
· Earthy
· Growth
· Symbiotic
· Coexisting
· Community
· Fresh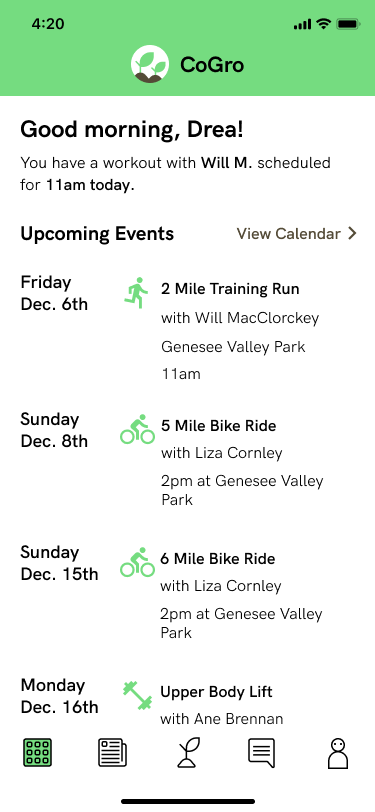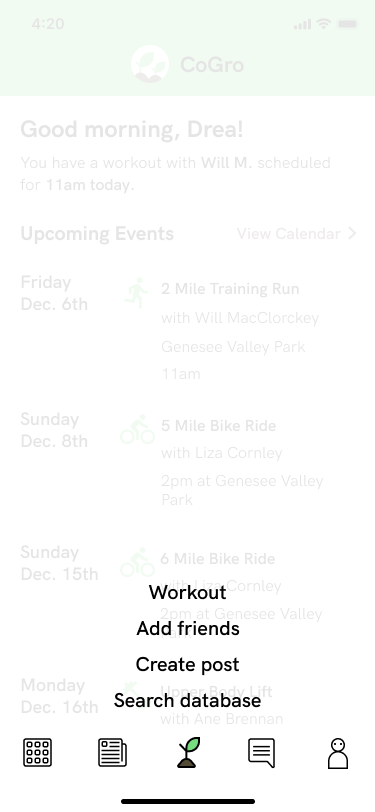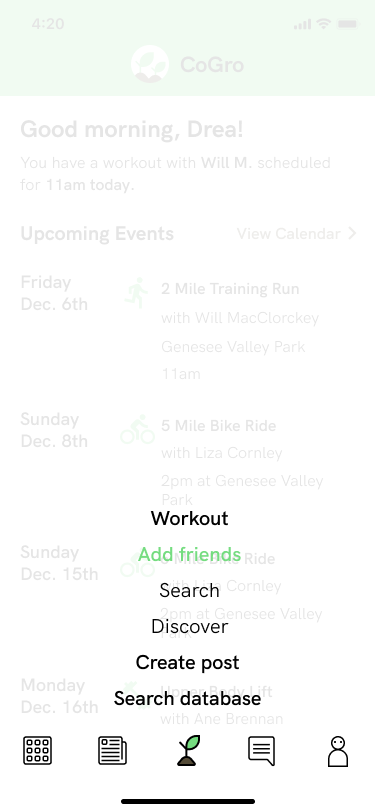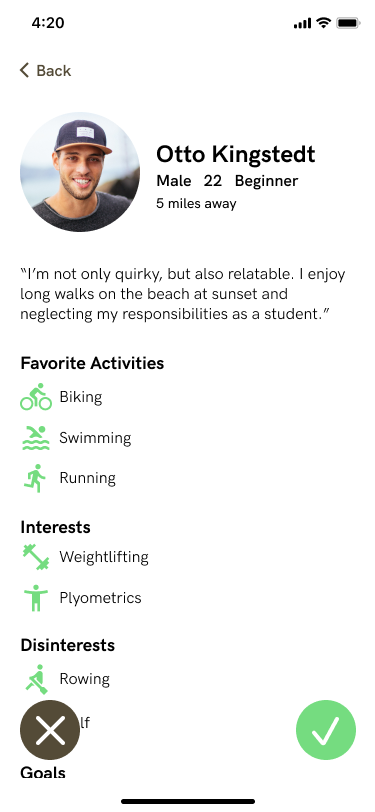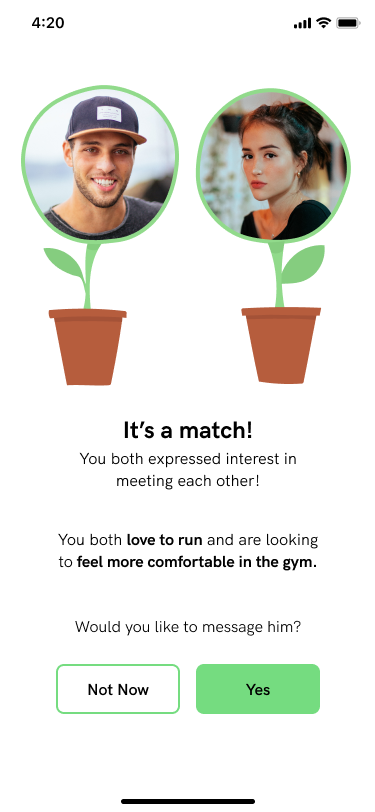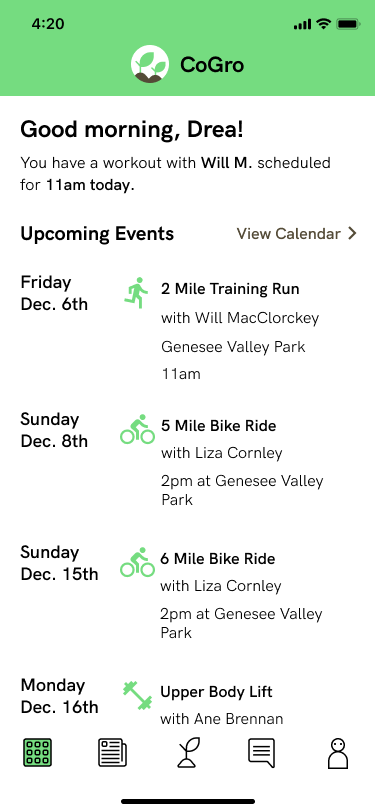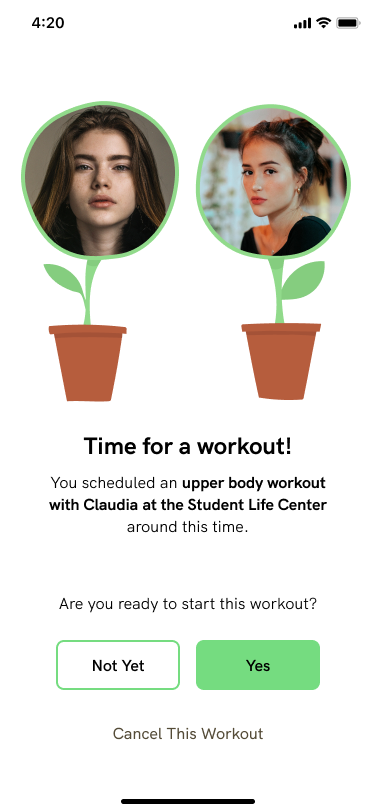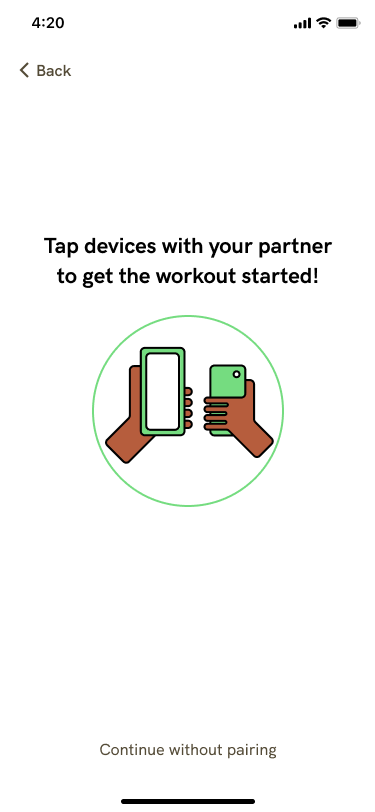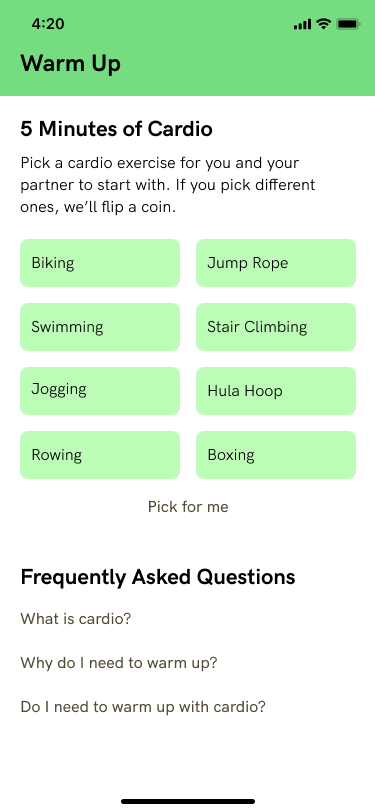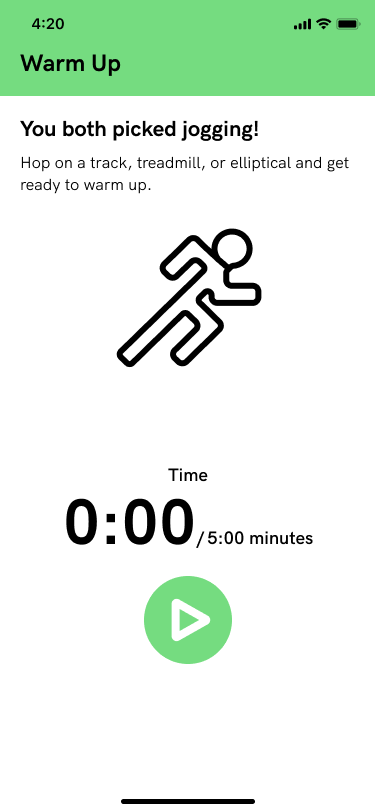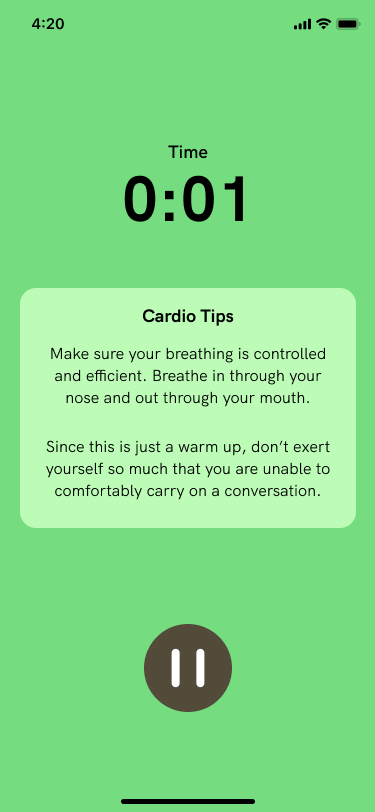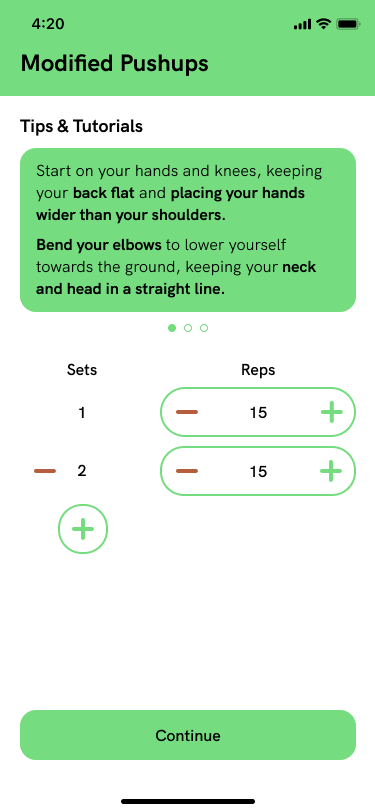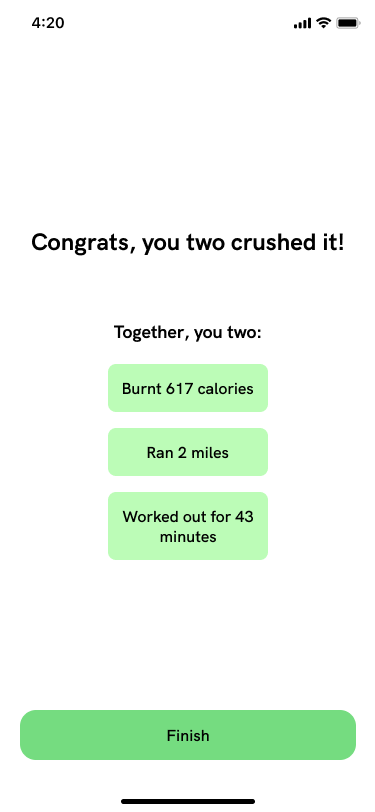 Next Steps
How can the app navigation be optimized for the most intuitive and seamless user interaction?
2. More Partner Activities
How can the buddy system dynamic be better implemented into workouts to make them more unique and cooperative?
3. Visual Concept & UI Design
How can the visual design be pushed further to make the app feel more friendly and social?
How can the use of white space and informational hierarchy be improved for a more engaging experience?